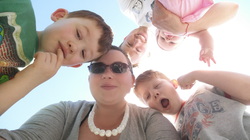 Wow it has been awhile !
We have done so much in two years and I have been journaling and keeping track of all the big milestone moments. We have added a new member to the family miss Amelia was born in November of 2014 and life was a whirlwind even before her arrival! I have been on top of the world with all the fun we have been having. The boys both love having baby sister in their life and I couldn't have asked for a better life loving and learning with my babes and my hubs.
I have continued to do hair and be a homeschooling momma. I am looking forward to updating our past and adding bits of our journey along the way. There is plenty to write about and counting our blessings will be such a great way to renew my tired momma spirit.